Tyson Fury made his professional debut at age 20, swiftly rising through the ranks with a series of impressive victories. His first world title fight came seven years later, where he secured a unanimous decision win over Wladimir Klitschko. Fury's career has been marked by his undefeated record, numerous title wins, and memorable fights against top contenders in the heavyweight division.
Quick Stats
Full Name: Tyson Fury (The Gypsy King)
Date of Birth: August 12, 1988
Place of Birth: Wythenshawe, Manchester, England
Age: 35
Height: 206 cm (6′ 9.10″)
Reach: 216 cm (7′ 1.04″)
Stance: Orthodox
Ape-Index: 10 cm (3.94″)
KO Rate: 70.6%
Professional Debut: December 6, 2008
Early Life and Beginning of Boxing Career
Born on August 12, 1988, in Wythenshawe, Manchester, England, Tyson Fury was destined for the ring. With a name inspired by the legendary Mike Tyson, Fury's introduction to the world of boxing was almost preordained.
Early Life Tyson
Tyson grew up in a family deeply entrenched in the boxing culture. The Fury family, with their Irish Traveller heritage, has a long history of bare-knuckle fighting. Tyson's father, John Fury, was a professional boxer himself, known for his tough, unyielding style. Under this robust and boxing-enriched environment, Tyson developed a fascination and love for the sport early on.
Fury's Introduction to Boxing
Tyson Fury embarked on his boxing journey at a young age. He was tall and naturally athletic, which gave him an advantage in the sport. Training rigorously under the watchful eyes of his father and other experienced trainers, Fury honed his skills, developing the techniques and strategies that would later define his boxing style. His dedication and relentless pursuit of boxing excellence were evident, marking the inception of a promising career.
First Amateur and Professional Fights
Fury's amateur career was short but impactful. He won the ABA super-heavyweight title in 2008, which was a clear indication of the success that awaited him in the professional arena. Tyson made his professional debut later that year on December 6, against Bela Gyongyosi. With the world watching, the 20-year-old unleashed his power and technique, securing a victory through a first-round TKO. This triumphant entry set the stage for Tyson Fury's illustrious career, highlighting the arrival of a new heavyweight contender on the global boxing stage.
Professional Record
Total Fights: 34
Wins: 33
Losses: 0
Draws: 1
KO Wins: 24
World Titles Held: 6 (WBA, WBC, IBF, WBO, The Ring 2x)
This initial phase of Tyson Fury's boxing history not only laid the foundation for his future successes but also provided glimpses of the champion he would become. Each punch thrown and every victory secured in those early days was a step towards becoming the Gypsy King, a title that encapsulates Tyson Fury's indomitable spirit and unparalleled skill in the ring.
Tyson Fury's Notable Fights
Tyson Fury's boxing history is studded with remarkable fights, each telling a tale of endurance, strategy, and unparalleled skill. Let's delve into some of the Gypsy King's most notable bouts.
Fight Against Wladimir Klitschko
On November 28, 2015, Fury faced the reigning champion, Wladimir Klitschko, in a match that would etch his name in boxing history. Klitschko, a seasoned and formidable opponent, was the favorite. However, Fury, with his unorthodox style and incredible footwork, outclassed Klitschko, securing a unanimous decision victory. This win not only handed Fury the WBA (Super), IBF, WBO, and The Ring heavyweight titles but also ended Klitschko's decade-long reign.
Two Fights Against Deontay Wilder
First Fight (December 1, 2018): The initial bout against Wilder was a display of Fury's resilience and skill. Despite being knocked down twice, Fury dominated most rounds with his superior boxing technique. The match controversially ended in a split draw, setting the stage for a riveting rivalry.
Second Fight (February 22, 2020): In their second encounter, Fury left no room for doubt. He delivered a masterclass, overpowering Wilder with his aggressive approach and precise hits, ultimately winning by TKO in the seventh round. This victory earned him the WBC and The Ring heavyweight titles.
Third Fight (October 9, 2021): The trilogy concluded with Fury retaining his WBC and The Ring titles, knocking out Wilder in the eleventh round in a fight considered one of the greatest in heavyweight history.
Fight Recommendations
For those interested in exploring Fury's illustrious career further, the following fights are highly recommended:
Fury vs. Deontay Wilder (2nd & 3rd fights)
Fury vs. Wladimir Klitschko
Fury vs. Dillian Whyte
Fury vs. Sefer Seferi
Fury vs. Tom Schwarz
Other Significant Fights and Performances
Against Derek Chisora (2011 & 2014): Fury met Chisora twice, winning both encounters. The first was a unanimous decision victory, while the second saw Chisora retire after the tenth round.
Against Dillian Whyte (April 23, 2022): Fury successfully defended his WBC and The Ring titles, overpowering Whyte with a TKO in the sixth round.
Against Christian Hammer (February 28, 2015): Before facing Klitschko, Fury had to get past Hammer. He did so in style, with Hammer's corner retiring him after the eighth round.
Each of these fights contributed significantly to Tyson Fury's boxing history, showcasing his evolution as a fighter, his indomitable spirit, and his ability to shine brightest when the lights were the brightest. These notable bouts are essential chapters in the storied career of the Gypsy King.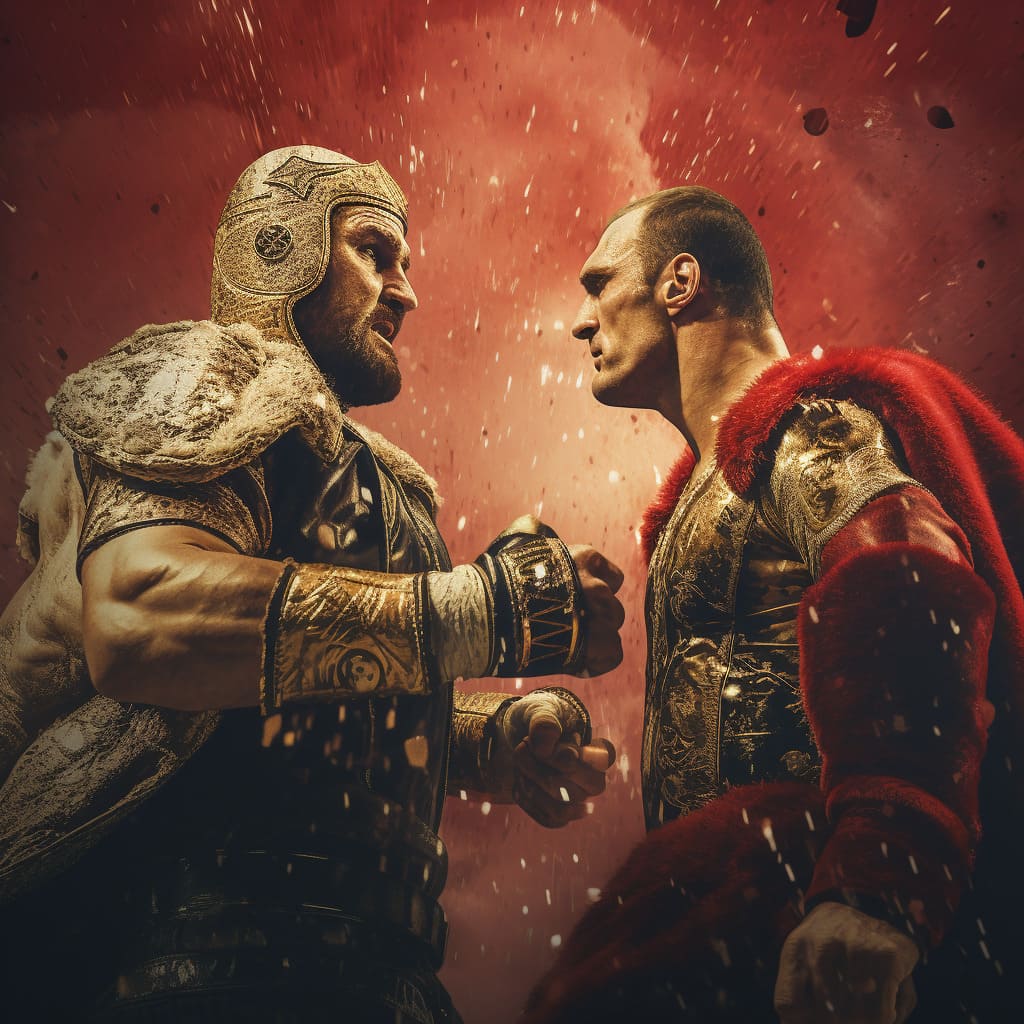 Career Highlights
First World Title Fight: November 28, 2015, against Wladimir Klitschko
World Titles Won: 6
Notable Victories: Wladimir Klitschko, Deontay Wilder, Dillian Whyte, Sefer Seferi, Tom Schwarz, Derek Chisora, Christian Hammer
Tyson Fury's Boxing Style
Tyson Fury's boxing history is synonymous with a style that is as enigmatic as the man himself. His approach in the ring is a blend of traditional and unorthodox techniques. Fury possesses the rare ability to switch stances effortlessly, transitioning between orthodox and southpaw, keeping his opponents guessing and off-balance. His defensive prowess is also noteworthy, often slipping punches and countering effectively, making him a difficult target.
Importance of His Height and Reach
Standing at a towering 6'9″ with a reach of 85 inches, Fury's physical attributes provide him with a distinct advantage. His height allows him to keep adversaries at bay with his jab, while his reach enables him to connect punches from a distance where others can't. These physical traits, combined with his agility and speed, make him a unique specimen in the heavyweight division.
Strategy and Tactics in the Ring
Fury's ring IQ is exceptional. He adapts his strategy based on the opponent, sometimes taking the role of an aggressor, while other times playing defensively and waiting for counter opportunities. His fights showcase a cerebral approach, where each move is calculated, and every punch thrown has a purpose, embodying a perfect amalgamation of power and finesse.
In essence, Tyson Fury's boxing style is a captivating tapestry of physical dominance, technical proficiency, and strategic brilliance, making him one of the most exciting and unpredictable boxers in the sport's history.
Who is Tyson Fury and what is his significance in boxing history?
Tyson Fury, known as "The Gypsy King," is a British professional boxer renowned for his unbeaten record and charismatic personality. He's significant for his remarkable comeback story and for holding multiple heavyweight titles.
What are the key highlights of Tyson Fury's boxing career?
Key highlights include defeating Wladimir Klitschko in 2015 to win multiple world heavyweight titles, his dramatic comeback fight against Deontay Wilder in 2018, and subsequently winning the WBC heavyweight title in 2020.
How did Tyson Fury start his boxing career?
Tyson Fury began his boxing career at a young age, coming from a family with a strong boxing background. He made his professional debut in 2008, quickly rising through the ranks with his skill and unique fighting style.
What is Tyson Fury's fighting style and strengths?
Fury is known for his exceptional footwork, defensive abilities, and unorthodox style for a heavyweight. His agility, coupled with his size and reach, makes him a formidable opponent in the ring.
Has Tyson Fury ever been defeated in his boxing career?
As of my last update in April 2023, Tyson Fury remains undefeated in his professional boxing career, showcasing his dominance in the heavyweight division.
What makes Tyson Fury's boxing history unique?
Fury's history is unique due to his comeback after struggling with mental health issues and his ability to maintain an undefeated record against top-tier opponents, cementing his status as a boxing legend.
Are there any documentaries or films about Tyson Fury's boxing journey?
Yes, there are documentaries and films that chronicle Tyson Fury's life and career, including "Tyson Fury: The Gypsy King" which offers an insight into his personal and professional life.